Trusted in more than 500,000 homes, the Unico System® fits into homes where conventional heating and cooling units can't, providing your beautiful home with comfort and efficiency for years to come!
Unico System Product Line
Our custom outlets can be matched with any décor.
So that you will achieve the best performance possible for your home or building, The Unico System is available in five sizes. This includes the blower and coil. Our air handler is available in two models – standard and our E.C. Air Handler, which features the S.MA.R.T Control Board and a more efficient electronically commutated (E.C.) motor.
The ductwork of the Unico System is so small and flexible that it fits right into existing home constructions, weaving through ceilings, walls, and floors.
The plenum, or main trunk line is what our supply duct tubing is fed from. There are three options available which include round metal pipe, square fiberglass plenum or rectangular plenum.
Unico's Electric Furnace is quiet, and replaces natural gas furnaces – all while providing comfortable, controlled heat throughout your home or building.
This outside unit can be used with up to four air handlers or ductless systems.
Unico, Inc. has partnered with Italian manufacturer, Argoclima, to introduce the iSeries line, including refrigerant-based outdoor inverter units that are incredibly energy efficient, earning a high SEER rating. They range from 1 to 3.5-tons and have ports to connect up to four indoor units. The line also includes the Unico System small duct and iSeries ductless units that generate less than 23 decibels of sound, making them some of the quietest products in the industry.
Ph: (800) 527-0896
Fax: (314) 457-9000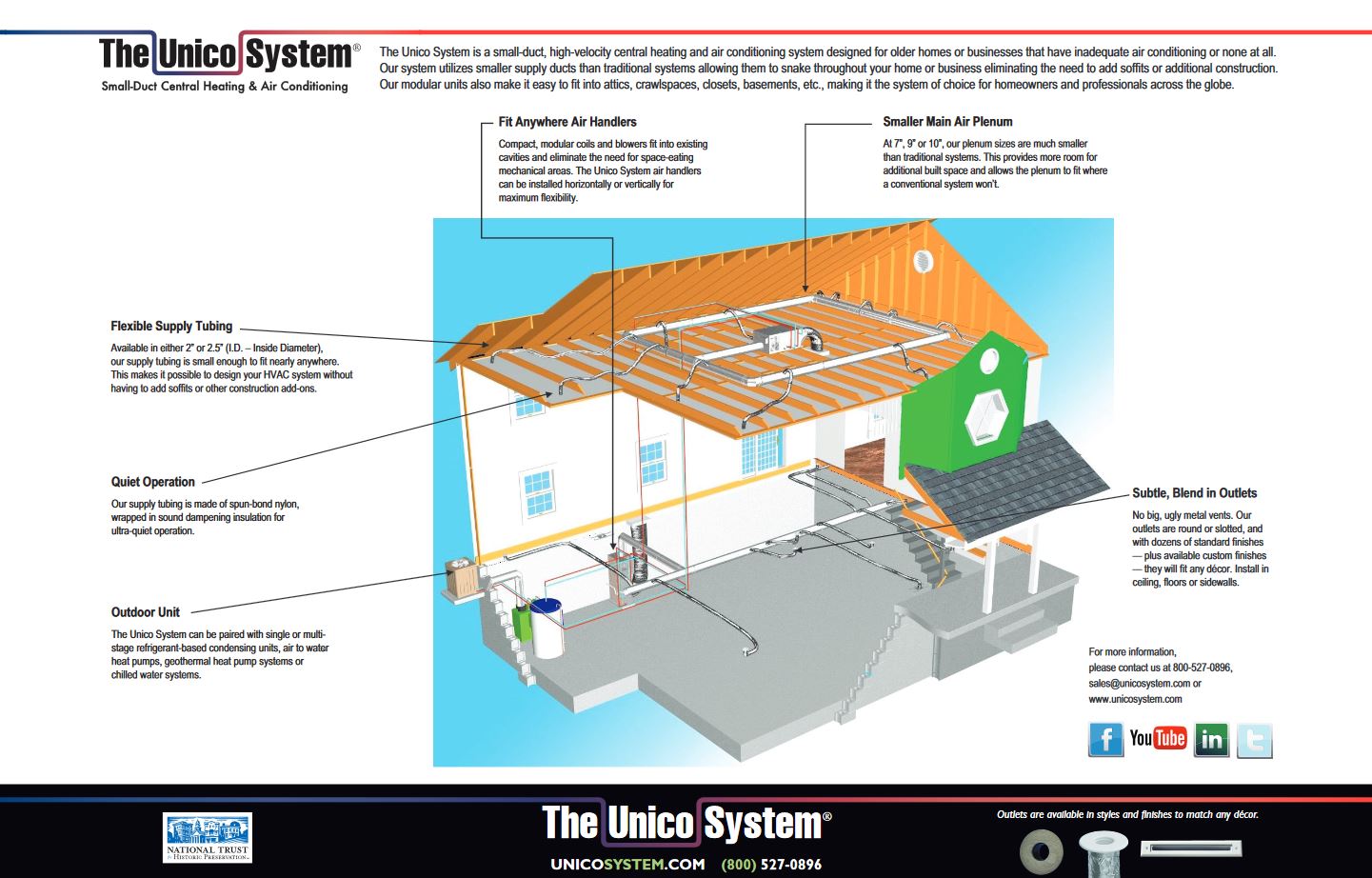 Small duct high velocity systems